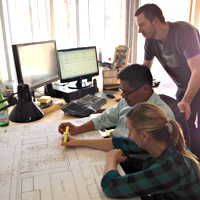 About Us

Oldham Engineering, Inc. is a mechanical engineering consulting firm located in downtown Alameda. The company was founded by John Oldham in 1995.
We provide mechanical engineering design services for architectural systems including HVAC, plumbing, and controls. Our services include construction documents, construction administration, and mechanical system studies. Our work is primarily for hospitals, office buildings, and schools in the San Francisco Bay Area.
Most of our work is in remodels of existing buildings. Our projects range from single rooms to 30,000 square foot hospital remodels and 50,000 square foot office remodels. We have extensive design experience with central boiler plants, high pressure steam boiler conversion to low pressure, chiller plants, and other mechanical infrastructure remodels.
Major clients include Alta Bates Summit Medical Center, University of California at San Francisco, Stanford University Medical Center, Lucille Packard Medical Center, the Transamerica Pyramid building, Washington Hospital, Highland Hospital, Children's Hospital Oakland, Kaiser Medical Center Oakland, Valleycare Medical Center, UC Berkeley, and Samuel Merritt University. We have performed more than 500 healthcare projects in the Bay Are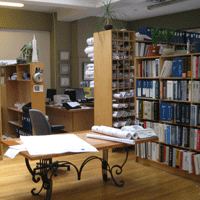 a.
Our firm is especially adept and experienced at the complex mechanical retrofit of existing buildings. This work includes the thorough field investigation of existing conditions. We do not rely on existing drawings of duct and pipe systems, but rather get above the ceiling to survey the actual conditions before we design. We stress open communication and cooperation with property owners, contractors, and other consultants throughout the design and construction process. We find that this approach maximizes efficiency and minimizes delays and change orders.
We are dedicated to providing top quality, thoroughly detailed, well thought out mechanical designs for all of our clients.